Currently viewing products available in
Mexico
SPAM® Lite 24/340g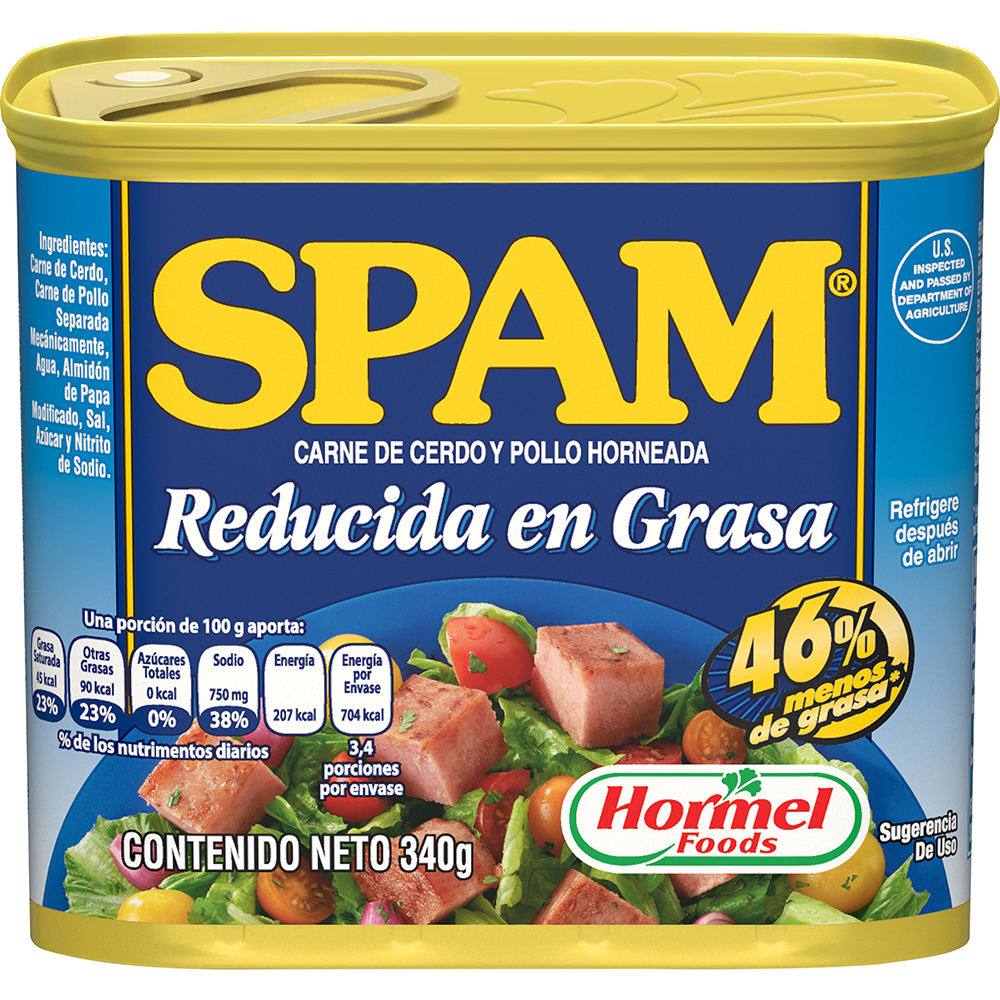 Heavy on the flavour, light on the other stuff. This variety offers the scrumptiousness of SPAM® Classic with 33% less calories, 50% less fat, and 25% less sodium, which means you can enjoy the taste you love more often. It's the perfect SPAM® variety for swimsuit season.
Preparation Instructions
Menu Ideas
Nutritional Information
Storage & Sizes
Preparation Instructions
FULLY COOKED, READY TO EAT - COLD OR HOT Slice SPAM®Lite and heat as suggested: TO FRY: Fry Slices in skillet until golden brown on both sides. TO BAKE: Place slices on baking pan. Bake at 425°F for 10 minutes. TO MICROWAVE: Place slices on microwavable-safe plate. Heat on HIGH for 1½ - 2 minutes or until hot. TO BROIL OR GRILL: Place slices on broiler pan or grill. Broil or grill 2 minutes on each side until golden brown.
Nutritional Information
Nutrition Facts
Serving Size 100 Grams
Amount Per Serving
Calories 207
Calories from Fat
% Daily Value*
Total Fat 15
23%
Trans Fat g
Cholesterol 70.86mg
1%
Sodium 750mg
31%
Total Carbohydrate 3g
1%
Dietary Fiber g
%
Sugars 1g
Added Sugars g
%
Protein 15g
| | |
| --- | --- |
| Vitamin A | 0.05% |
| Vitamin C | 1.53% |
| Vitamin D | % |
| Potassium | % |
| Calcium | 3.43% |
| Iron | 5.49% |
* Percent Daily Values are based on a 2,000 calorie diet. Your daily values may be higher or lower depending on your calorie needs.
Ingredients
pork, mechanically separated chicken, water, modified potato starch, salt, sugar, sodium nitrite. spanish: carne de cerdo, carne de pollo separada mecánicamente, agua, almidón de papa modificado, sal, azúcar y nitrito de sodio.
Allergens
no big 9 allergens present
Product Claims
fat content has been reduced from 28g to 15g per serving.
Nutrition Claims
46% less fat than classic spam®.46% menos de grasa que classic spam®.
Storage & Sizes
Storage
| | |
| --- | --- |
| Storage Temp | Recommended: 21˚C (Max: 32˚C and Min: 4˚C) |
| Storage Method | Keep Dry and Cool |
Metric Product Information
| | |
| --- | --- |
| Pallet Pattern | 14 x 6 = 84 |
| Total Code Days | 1095 |
| Case Dimensions | 33.02cm L x 24.46cm W x 39.37cm H |
| Cubic Meters | 0.014 |
| Net Weight | 8.16466kg |